Stone Fine Jewelry creations reflect the elegance and glamour of traditional fine jewelry with a fluidity essential for the modern lifestyle of today.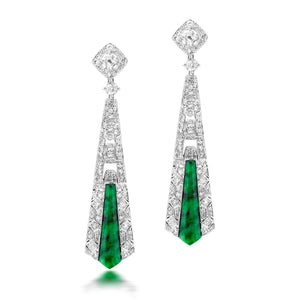 DESIGN EXPERTISE
The pieces capture the magic of high-end jewelry in an uncomplicated way. The line is sophisticated and bold but equally so, it is sensual and versatile. Its delicate detailing and contemporary finish evoke a polished aesthetic and luminosity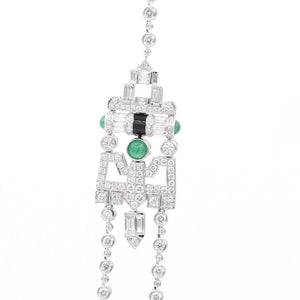 THE INSPIRATION
The inspiration behind the Stone Fine Jewelry line is the creation of timeless designs with an uncompromising focus on quality. Stone fine jewelry pieces are handmade using fine craftsmanship and classical Stone setting techniques. Each piece stands the test of time. Each piece can be worn over and over or rediscovered.
Stone Fine Jewelry collections differ stylistically - in the same way, the facets of a woman's personality vary. From the statement-making to the whimsical, and the dazzling to the artful, each collection achieves the same goal -elegance, beauty, and movement.
THE COLLECTIONS
The Couture pieces are for genuine jewelry lovers and are uniquely crafted. The most colorful of the Stone Fine Jewelry collections, its pieces are set with carved jades, emeralds, sapphires, turquoise, and other precious stones. The collection is vibrant and delivers distinguishing flair.
The Revolve collection, with its circular shape and modular designs, has universal appeal and brings an energetic and reflective force with it.
The Swing collection captures the strength of bold lines and the high powered luster of gold finish. Rich with charms, it enables women to tell the story they want.
The Bling collection pieces are for the dynamic and urban woman. The designs are on-trend and constantly evolving. Whether worn as a stand-alone piece or stacked together for a curated signature look, they excite and energize women of all ages.
The Wonder collection is architectural and artful, it is for the seekers of purity and light.
The Whisper collection is an adventure in playful yet elegant ear dressing.

Stone Fine Jewelry was founded in 2010 by Jordanian duo Ghadeer Taher and Joumana Jallad. They lead a team of women who are passionate about beauty and jewelry design; and are dedicated to delivering the best to customers globally.